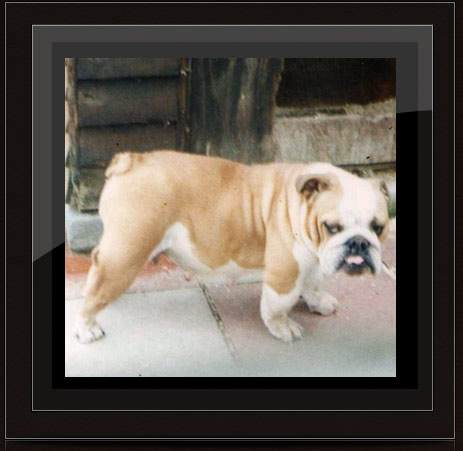 Our dear poor Lulu, she was Ironbrew's litter sister, she was very badly affected with parvo virus ( this was brought into the kennel by a pup that was returned ).

Our poor Lulu did not eat for six days she so near to death, we were told to try to get her to eat chicken or fish in the end it was a pepperami stick that done the job and saved her.

She was ruined for showing but done us proud in the whelping box. Her first litter was by Britishpride Power n`Glory a litter of five three making it in to the show ring Hillplace Busy Bee 1cc & `rcc , Hillplace Lavender a good winning bitch and Hillplace Musketeer Crufts qualified and a good sire.

Lulu`s second litter were by Quintic Tango we kept two bitches back Hillplace Jelly Bean and Hillplace Heidi both important bitches in the breeding of our current show dogs.

After her last litter, her health started to fail , she was sick so much that we were unable to have her in the house she had operations to try and help her but to no avail.

Lulu then got a bony growth ( cancer ) on her shoulder that grew and grew there was nothing else we could do for her.
We so wanted to give her a happy retirement in the house and that she deserved so much , but at the age of just seven she had to be put to sleep .