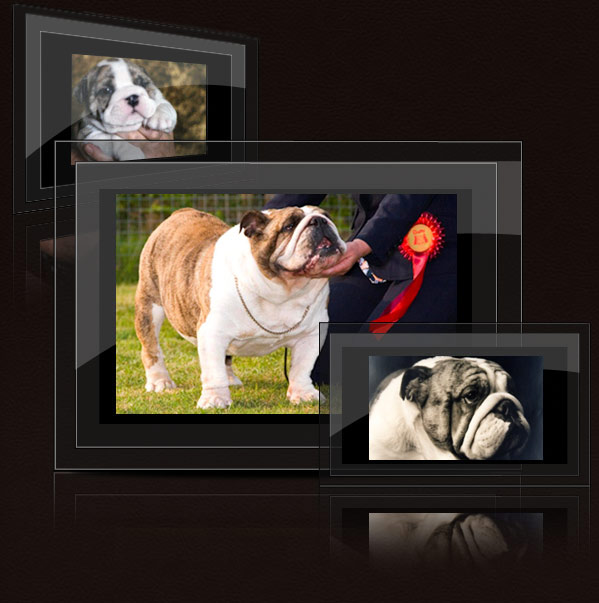 A very strong impressive brindle dog, by CH Medbull Goldust over Kelloe out of our Hillplace Lola,
self whelped.

The mum of this litter Lola,
was very ill and had no milk to start with so one of our other bulldogs Molly who also had an older litter took them over, until Lola was better.
This proved to be a big mistake as the pups did not get the colostrum they needed to help them fight disease.

Ten weeks later these pups went down with parvo virus, Brew was hardly affected but his sister Drizzle died and the other sister Lulu very nearly died as well.

A show boy right from the start he liked nothing more than an audience ,he would strut his stuff to everyone.
A very good show dog he done us proud.

As a dearly loved pet he was boss of all around him , he had his harem of girls to look after and God help anyone that upset them (Peter Whittle still has the scars!).

A chicken killer this boy was, even in his old age.

Brew was once used to produce a photo for an exhibition in London , we had to travel by train to Kings cross to have the picture done ,all went well but the journey home in rush hour was hell and once on the very busy train Brew put his slobby chops on a business man knee and then for all the rest of the journey he farted for England!.

Brew also had his picture used on the Graham Norton show.

His grandchildren include Ch Hillplace Iron Lady , Quintic Bear with Me ,Hillplace Iron Oxide and greatgrandchildren Hillplace Golly , Hillplace Voodoo Dolly , Hillplace Delilah, Hillplace Carbon Copy, everyone of them carrying his brindle colour.

At the age of 10 Brew had a heart attack, he made a good recovery, but it was decided he should come and live in the house, he took to this like a duck to water.

As Brew so loved showing we asked our vet if he thought Brew would be able to go to Crufts for one last time , he was given a clean bill of health at 10 years 4 months. We were very careful at Crufts I took Brew into the ring on the big green carpet for his last time , he loved it and strutted his stuff and won the class and came out with his red Crufts rosette. He loved his day being the centre of attention ,that night when we got home he sat with his head on my knee his eyes so full of sparkle and fun , what a day he had.

Two months short of his 11 birthday aches and pain got too much for him and very sadly he made his last journey.

Irreplaceable.....