Igwigg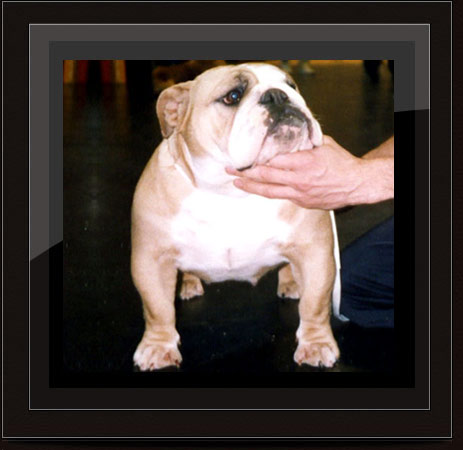 or Esme as she was known we had high hope for her from the moment she was born.

A born show dog she was one of the best to handle she knew she was one of the best.

This little girl was nearly

always in the top 3

in very good company and even managed to win a

CC & RCC

and then the little poppet put herself on a diet!
And that was the end of her show career.

Esme had 3 litters in her life the first she

self whelped

7 of them, 9 days early they were all dead a terrible shock for all and Esme was terribly ill. Esme then went on to have two more litters one of the pups was Hillplace Light my fire BIS winner sire of Hillplace Captain Scarlet RCC.

As Esme got older the decision was made that she would live with Ralph`s Mum I sadly handed her over, she flourished being hand fed steak everyday and got back in her show condition and then got too fat so was always on a diet.

Very sound never had a days lameness at 10 1/2 she became unwell we brought her back to see our vet. Ralph brought her into the house she walked across the floor, I said that dog is not at deaths door
( as feared ) with that she turned and died in our arms.

Well it has taken 11 months to be able to write this. The sweetest little girl ever.