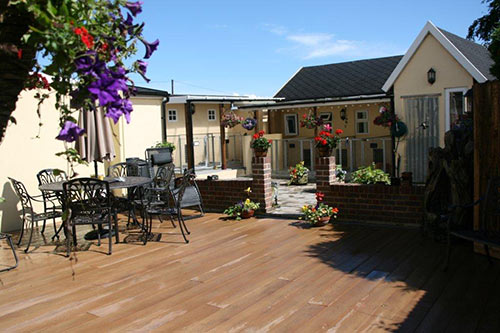 Ralph & Maria have been involved with bulldogs since 1989, firstly buying a family pet and over the years turning to breeding, showing & judging.

We have lovely kennels in the Sussex countryside set in five acres for the dogs to exercise on. Maria is at home all day to look after the dogs they are all exercised daily, Ralph is in charge of the popular late night supper of hand fed liver and sausages prior to lights out.

The health of our dogs is extremely important to us, our dogs must be able to run freely and live a good active long life, nearly all of our dogs are living to between 10- 13 years. We try to encourage our bitches to self whelp.

We run a bulldog only boarding kennel licensed for 10 dogs and are licensed breeders inspected every year by Horsham council.

We offer spacious kennels in a peaceful stress free environment living along side our dogs. They can enjoy open air loose exercise in a safe secure environment and you can relax in the knowledge that your dog is being cared for by breed specialist
s. Current cost for accommodation is £14.00 single dog £24.00 double ( from the same fmily ). (Late night supper included).
We have a very good reputation in the breed for breeding healthy active bulldo

gs. Maria shows the dogs almost every weekend and our current show team include Hillplace Lay Lady Lay , Hillplace Lady of Iron and Hillplace Barbie and we hope to have two lovely girl puppies out in April 2014.
Hillplace Bulldogs are always pleased to see their stock in the show ring and are happy to hear from people who are looking for bulldogs with show potential and from people who are looking for a family pet.